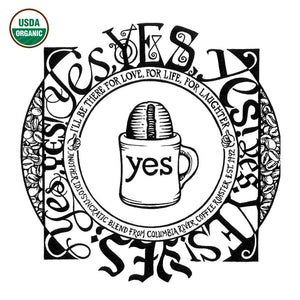 Yes, I can. Yes, I will. Yes, I'll go, and yes, I'll try. Yes, I'll be there, for love, for life, for laughter. Yes, yes, yes…a thousand times YES…after just one more cup of coffee. A blend of dark and light organic Central American coffees. CUPPING NOTES:  a nice mix of dried apricot, walnuts, and caramel. 
Certified organic by Oregon Department of Agriculture. 
Please note: We roast to order on Mondays & Tuesdays. Your order will ship as promptly as possible, with the freshest roast possible. You will receive email notification when your order has been shipped (with tracking info) or is ready to be picked up locally (if you choose pickup as your shipping option). If you have any questions, please contact us at orders@crcrcoffee.com.