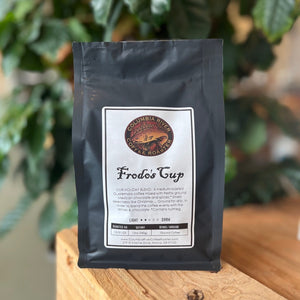 A holiday favorite! Frodo's Cup is a delicious Guatemala coffee blended with freshly ground Mexican chocolate and spices (contains nutmeg).  This year's coffee is our Guatemala Ella.  Sourced from three dedicated women-producers from three different regions of Guatemala. More info on that coffee here.
Frodo's Cup smells delectably like Christmas. The perfect accompaniment to any holiday celebration! For cozying up in the evenings, it's also available in decaf. 
Only available ground for drip, in order to blend the coffee evenly with the spices & chocolate. 
 *AVAILABLE FOR A LIMITED TIME!
Please note: We roast to order on Mondays & Tuesdays. Your order will ship as promptly as possible, with the freshest roast possible. You will receive email notification when your order has been shipped (with tracking info) or is ready to be picked up locally (if you choose pickup as your shipping option). If you have any questions, please contact us at orders@crcrcoffee.com.